Hello Traveler!
We have packaged tour packages Adventure Komodo Trek Tour for those of you who have planned a vacation to Labuan Bajo, Komodo. The wisat package is an exploration of the highly popular Destinations highlight within the Komodo National Park. Now you will visit the top 17 destinations in Komodo National Park in just 4 days! Such as: Kelor Island, Rinca Island, Angel Island, Menjerite, Rinca Village, Kalong Rinca, Padar Island, Pink beach, Komodo Village, Rudolf Hill, Loh Sabita, Manta Point, Gili Lawa, Siaba, Sebayur and Kanawa.
ITINERARY TRAVEL
DAY 01. LABUAN BAJO – BIDADARI – KELOR – MENJERITE – KAMPUNG RINCA – KALONG RINCA (L, D)
Phinisi Boat Trip
After that you will visit Rinca village which has the second largest population after Komodo dragon village in Komodo National Park. Here you will see Manggarai ethnic mix – Bugis and Bima live together in one kampong with profession as fisherman and some civil servants, you will also find dried fish Yang dikumur front of house catches color, if time lucky chance to see komodo dragon will exist. Komodo come to kampong because of the smell of foreign fish dried up by residents. After that return to the ship and move to the island of Kalong, at around 17.30 a bunch that inhabits mangrove forests totaling about ten thousands will fly to the island of Flores, Sunset was very beautiful here. Relax, dinner. (First night stay on Kalong Island)
DAY 02. RINCA – PADAR – PINK BEACH – KAMPUNG KOMODO (B, L, D)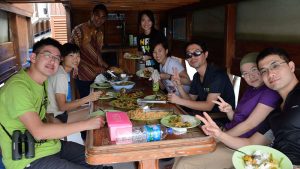 Lunch On Board
After breakfast on the boat, will soon rush to Loh Buaya, Rinca Island. Arriving at Rinca Island you will be greeted friendly by Ranger / Pawang Komodo who will guide you in exploration for trekking observing the survival of KOMODO stars and other wildlife in their original environment such as: Wild buffalo, Wild horse, Monkey, Deer timor, Wild boar, snake And several species of endemic birds. After the trekking finish back to the boat for lunch. Your journey will be continued to Padar Island. On Padar Island guide will take you trekking to the top to see the landscape panorama and indentation of unique three-color beach that is amazing.
Capture Padar's moment is ideal. Return to the boat and continue to Pink Beach Snorkeling to see the beauty of the coral gardens of coral reefs and colorful fishes and soft pink sand beaches like crystal. After that, you will visit Komodo Village to observe how they can live in Komodo Dragon territory. There you will also interact with local residents and see their ability to make a statue of Komodo from Waru wood. Return to the boat, enjoy the sunset from the island of Kalong and have dinner. Stay on sture island.
DAY 03. KOMODO ISLAND – RUDOFL HILL – SABITA – MANTA POINT – GILI LAWA (B, L, D)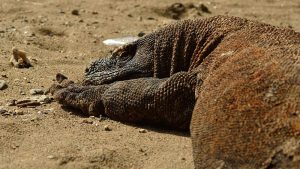 Rodulf Hill was once the place of a foreign country named Rudolf eaten Komodo, and now kuburnnyapun still exist. After enjoying the beautiful scenery at Rudolf, the journey continues to Sabita. Sabita is a hunting spot of Komodo because there are many wild buffalo. The boat will pick you up at Sabita for lunch then go to Manta point for Snorkeling with Manta fish, sometimes reef sharks, turtles, eels and barracudas can be found while snorkeling. After that, we will visit the island of Gili Lawa. This island is famous for its stunning viewers, you will spend the 3rd day of the tour on the summit to enjoy the sunset and beautiful scenery that pamper the eyes. Dinner and stay in the dyke Lawa decorated by bintnang and milky way in the sky.
DAY 04. GILI LAWA – SIABA – SEBAYUR – KANAWA ( B, L )
We will awaken you at 4.30 for trekking to the top of Gili Lawa to watch the sunrise rising just east of Labuan Bajo, the colorful sunrise, it slowly gives us time to capture the historic moment of Sunrise at the top of Gili Lawa. Then we return to the boat for breakfast while sailing to Siaba.
Siaba is famous for its Turtle heaven snorkeling spot where turtles are easily seen, especially hawksbill turtles and green turtles. After that move to a small area to snorkel to see the coral reef and lunch on the way to Kanawa. In kanawa you will swim, snorkel and relax on the white sand or relax on the wooden pier while watching the fish play on the coral reef. After that sail home all packed clothes and we immediately take to your hotel.
PRICE ALREADY INCLUDES:
PRICE NOT INCLUDING:
Flight ticket
Airport tax
Alcoholic beverages
Soft drinks
Personal needs during the tour
Tipping
SOMETHING TO BE UNDERSTANDED AND WHEN TOUR:
Identity card
Bagpack Bag
Hat
Shoes / Sandals Trekking
Sun Cream
Sun glass
Extra cash
Camera
Power bank charger
Etc