The quality and skills of the team is important for our company to ensure that the needs and expectation of our guests are well catered for. In this regard our Company has developed and has implemented a standardized company Guide training by Indonesian Tourist Guide Association for all of our Guides.
Our local team is working in specialist fields such as Trekking, Snorkeling and Adventures tours. Our guides are young professional local people who have experienced in taking tours all over island of Flores and Islands around Komodo National Park.
Aloysius Suhartim Karya ( Louis )
Founder/Travel Expert
I was born in the countryside, grown and raised up among agricultural farming communities in West Flores. Studied in tourism vocational high school and have worked as local guide at Batu Cermin cave and Naturalist Guide at Loh Buaya, Rinca island, Komodo National Park for quite long time. This year ( 2018 ) I just have an opportunity to take a higher level of education in university, becoming a student at a newly established eLBajo Commodus Tourism Polytechnic in Labuan Bajo, specializing in Ecotourism
Having worked also with an adventure company for two and a half years as an Adventure Tour Leader had enabled me to travel and explore the Indonesian archipelago especially in Sumatera, Bali, Lombok, Flores and Komodo Island.
As the Indonesian tourism industry has been growing rapidly in last couple of years, I decided to build this company to showcase the wonderful tourism opportunities on my island. My aim was to ensure that you get the maximum enjoyment from your vacation in my native country. There is so much to do and so much to see it can be overwhelming, but in the company of experienced tour guide, you can ensure that you gain the most from your time in Flores and Komodo Island.
Through this company, I dedicates my time serving visitors to Komodo who are seeking pleasure through such activities as island hopping, snorkeling, free diving, trekking/hiking, bird watching, and explore the traditional culture and hidden treasures of Flores. With all of my experiences working as Tour guide for many years, it leads me to be very expert in Guiding and arranging the best tour for my guest.
With warm heart, I really welcome everyone who wishes to come and visit Flores and Komodo. I am more than ready to plan your tour and to accompany you to make your visit an unforgettable experience.
Boe Berkelana ( Boe )
Tourist Guide & Travel Planner
Boe Berkelana was born in the small villages of Naga, a remote village which is about three hours drive from Labuan Bajo, the capital city of West Manggarai regency. Boe is his short for his full name 'Muhamad Boeharto', while Berkelana is his name for his love for travelling. In Bahasa Indonesia, Berkelana means to travel or to wander.
Boe had become familiar with traveling since he was a little kid and had become familiar with guiding since he was in college. Having graduated from SDK Naga, a catholic elementary school in his village, he traveled to Bima, Sumbawa island, where he finished his junior high school. After that, he traveled to Makassar, Sulawesi island, to continue his study to senior high school. After finishing his high school in Makassar, he traveled to Malang, East Java, to continue his study to university. In Java, he failed to continue to study at University. In the following year, he then decided to go back to Makassar and applied for Universitas Hasanuddin (Unhas) where he finished his undergraduate study in English Literature. During his study at university, he actively participated and involved in several international programs held in Makassar as interpreter, translator, and liaison officer. He also became freelance interpreter and translator for foreign researchers who conducted research on cocoa in several remote areas of South Sulawesi such as Luwu and Palopo.
In 2014, he decided to go back to Labuan Bajo and worked for a local nongovernmental organization. As Labuan Bajo is growing rapidly as one of the main tourism destinations in the Indonesia, he challenges himself to totally involve in tourism industry. In early 2016, he joined Komodo Trekker as a tourist guide and travel planner. With all of his knowledge and experiences from his previous job and as a local, he really knows his battle field. His great knowledge on language, culture, and social-related issues sometimes leads him to involve in an intense discussion with his guest while exploring the beauty of island of Flores and islands around Komodo National Park, some for one day island hopping tour, two and three days snorkeling and trekking, and others for longer nine days adventures.
With his friendly face, he is just nice guy to talk to and discuss with during your trip exploring the beauty of the island of Flores and islands around Komodo National Park.
Josep Fodi ( Josep )
Tour guide/Tour Organizer
Josep Fodi  was born in a fascinating fertilizing small village, named Golo Kaca which can be reached a two hour drive from Labuan Bajo town of West Manggarai regency. He was also raised up by his parents who both worked as farmers. He was well-known as Josep by all of his friends. He had been working as a tour guide of a big Travel agency which serves the tour packages around and beyond Flores island since 2011.Then, he started to travel beyond Flores for college particularly in a island of thousand temples Bali. There, he started his college at a private University of STIBA Saraswati Denpasar at 2012. Apart from being a student at private university, he also had to work as a tour operator at a travel agency in Bali, as it's to help him ambition to be a scholar. In other words, he carried out two important things such as being a student and also being an employee in a travel agency. He is an independent and easygoing person, as he did his college by himself. Learning by doing is the most prestige principle hold by himself. He broadened his capability either practice his English and improve his skill in tourism field in Bali. Being a knowledgeable and easygoing tour guide is becoming the most prestige dream to be carried it out in his life, as he loves being a guide. He also loves learning new things. He graduated his college in last 2016, and decided to get back to his hometown Flores island particularly Labuan Bajo to be a tour guide. Sometimes, he started his lovely job from Bali to explore either the land or marine part of Flores and islands of Komodo National Park. He is keen on music, he loves playing some music instrument like guitar, though it isn't such a professional one.  He is a wise and humble person, and he'd be grateful to share his culture and tradition as Manggarain to all of his guests as he believes that tourism is not only about to get fun things but also to obtain some new knowledge. He'd be humbly to listen and accept some valuable knowledge from anyone.
Saverinus Dirgo ( Rinus ) 
Trekking & Snorkeling Tour Guide
He was born and raised up at Wangkar, East Manggarai, Flores. Grew up in the mountain village with the coffee commodities farmer. When he was little boy he loveD to help his parents to clean the coffee, cacao, vanilla, cloves and cinnamon. He studied at catholic elementary school about an hour by walk on  in his neighbor village. Since then he love farming and and trekking!
He then continued his study at junior high school in Ruteng and finished his Senior high school at SMKN 1 Labuan bajo majoring Tour and Travel management in  2005. After he graduated He applied to the Komodo National Park office as a Naturalist guide at Loh Liang, Komodo island. Becoming Naturalist guide he had a great opportunity to learn about conservation of the terrestrial and marine biodiversity of the Park.  Since 2010 to the present he is working as a Park naturalist guide at Loh Buaya.
He is humorist and knowledgeable, he loves to tell the history about Komodo Dragons life and his culture to all visitors. In 2017 he  joined the team of  Komodo Trekker as Trekking and Snorkeling guide around the islands of Komodo National Park.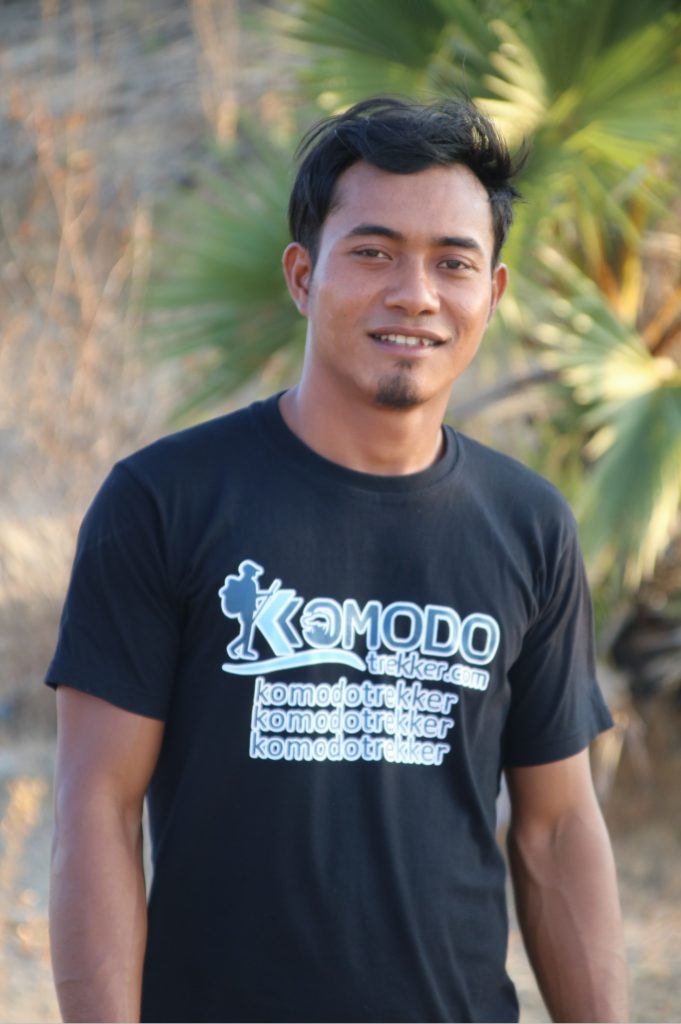 Stefanus Riwa ( Fano )
Trekking & Snorkeling Guide
Fano was born and grown up in Mberata village, a remote village which is thirty minutes away from Labuan Bajo Town. He graduated from Tourism vocational high school in Labuan Bajo. Graduated from his high school, he moved to Bali and worked as a room attendant in one of the five stars hotels in Bali. After two years working in Bali, he then decided to go back to Labuan Bajo and worked in one of the diving companies in Labuan Bajo as snorkeling and trekking guide. Having enough experience working for the diving company, he then decided to join local company to dedicate himself in tourism by showing the beauty of the island where he was born and raised. Then he joined the team of Komodo Trekker as snorkeling and trekking guide.
He loves to share his story about his native lifestyle and he excited to show his authentic beautiful Nature and Culture of his hometown to traveler all around the World.
Yosefina Yasinta Astuti ( Tuty )
Administration Officer
Tuty was born and raised up in the mountain, grown up among agriculture commodities. Studied at catholic senior high school and went to Makassar to continue her study at university majoring Indonesian literature. She loves traveling and also has passion in finance and accounting. She joined the team of Komodo Trekker and supported the company's financial management.
Hansh Fonirin (Hansh)
Trekking/ Snorkeling
Hansh was born in Lando, a small village nearby capital regency of West Manggarai. He comes from a little family. In 2012, he graduated from a University in Makassar, South of Sulawesi, and majoring English Education.  He likes to play football, badminton, volleyball, and swimming. He also likes to listen to the music. When he was a kid, every afternoon, he always went to the river to swim. As a boy who was born in a village, he used to hike up the mountain to take fire food. Trekking was his everyday routine. After graduated from University in 2012, he became English teacher for a high school in his village. He liked the job very much. Not only did he teach the students but also help connect them with outside world. Sometimes, he invited foreign people to come in his classroom and share stories with his students.
As tourism development is growing very rapidly and Labuan bajo has become one of the main tourism destinations in Indonesia, he left up his job as a teacher and wanted to challenge himself with a new role. In 2015, he then joined Komodo Trekker as a tourist guide.